Somewhere between the Apple Watch and Amazon Echo lives the future of your living room and more generally, your home — here is what I want it to look like.
Voice Control
Having an Amazon Echo in your house truly changes how you interact with software. Even though I use dictation a ton on my watch and phone, it's generally to input text vs. an entire interaction. With Echo, there is no screen, so interfacing via audio is the only input or output possible.
"Alexa, what time is it?" I ask aloud to no one in particular. "It's 8:09pm." It's just such a natural interaction, as if she was in the room with me. "Alexa, what's the weather for tomorrow?" "Alexa, set the timer for 30 minutes."
Like most amazing new technology, Echo doesn't allow me to do anything new, it just lets me do the things I already do much faster and more easily. I only have one in the living room, but I often wish I had it available everywhere.
Now imagine if Apple TV had a microphone on it. Swap out Alexa for Siri, and you can start saying things out loud in your home like "Hey Siri, play Bad Blood by Taylor Swift," or "Hey Siri, show me the photos I took today."
Not only would we finally be rid of the Apple TV remote, but it would open up Apple TV to be a device we used even without our TVs. Siri for the home. Combined with opening Siri up to third party developers, you could even use your Apple TV for moments like "Hey Siri, make a reservation for two people at Hudson Clearwater at 7pm," or "Hey Siri, start the next episode of House Of Cards."
To simulate this sort of interaction: Using headphones with your iPhone, say "Hey Siri" and try to accomplish a task with only your voice. Soon you'll be so used to it that you'll be annoyed when you have to manually adjust the volume with your hand. (For the record, Alexa can adjust her volume just by being asked.)
One barrier here, which is certainly true of Echo, is that when audio is playing from a movie, TV show, or music at a loud volume, often the microphone cannot detect your voice commands over the sound coming out of the speakers.
This could be remedied with some fancy footwork on the audio engineering side: If the audio is always being outputted from Apple TV itself (more on that below), the software could basically take the audio input from the microphone (sound from the speakers + your voice) and "subtract" the output signal (sound from the speakers only), leaving the delta (your voice only). That way it could "hear" you even over the loudest music or movie. It's how certain noise canceling headphones work, and I don't see why it couldn't work here.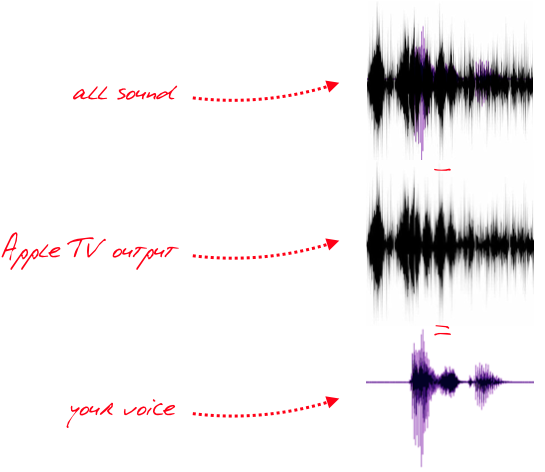 I can also imagine using the Apple Watch as a microphone input for Apple TV since a) it has a microphone, b) it's always on you, and c) it could be placed very close to your mouth easily. Also that could make it super easy to use Siri from anywhere in your house regardless of proximity to the Apple TV box itself. But not everyone has an Apple Watch. (yet) So it also could work with iPhone, iPad, or any Mac. They could all serve as audio inputs so whichever happens to be closest to you could relay the command. And each of those devices has a speaker too, so the response could be wherever you are.
Input Hub
There has been a lot of talk over the years about Apple actually manufacturing a television. I don't see that happening. Instead, I imagine Apple TV as the "brain" of your TV, and the TV itself just being dumb glass.
It goes without saying that in a perfect scenario, there is no cable and instead all the channels are just part of some massive Apple media offering (Apple Music, Apple News,… Apple TV!), but in case that is not possible quite yet, here is an alternative that would not require any partnerships.
One of the most annoying things about currently using Apple TV is the simple act of switching inputs on your television. HDMI 1 is your cable box, HDMI 2 is Apple TV, and so on. It's a major barrier to doing spontaneous activities on Apple TV like playing music, AirPlaying, etc.
Imagine if the device itself could have multiple inputs with a single output to the TV. Kind of like how a stereo receiver has multiple inputs going to a single set of speakers. The Apple TV interface would allow you to switch seamlessly between other inputs within its own software, so that even if you are watching cable, it's actually just within the Apple TV environment. You could move between your cable and other Apple TV activities without ever switching inputs on the television itself.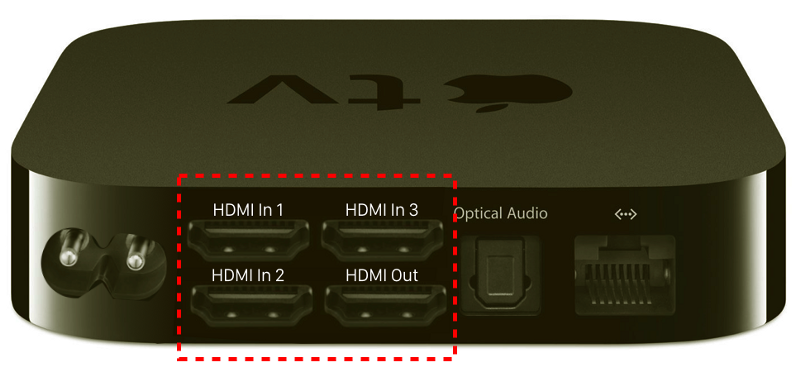 The TV itself would always be on, like a computer display that you never power off. Apple TV decides what to display on the screen or play through the speakers at any given time.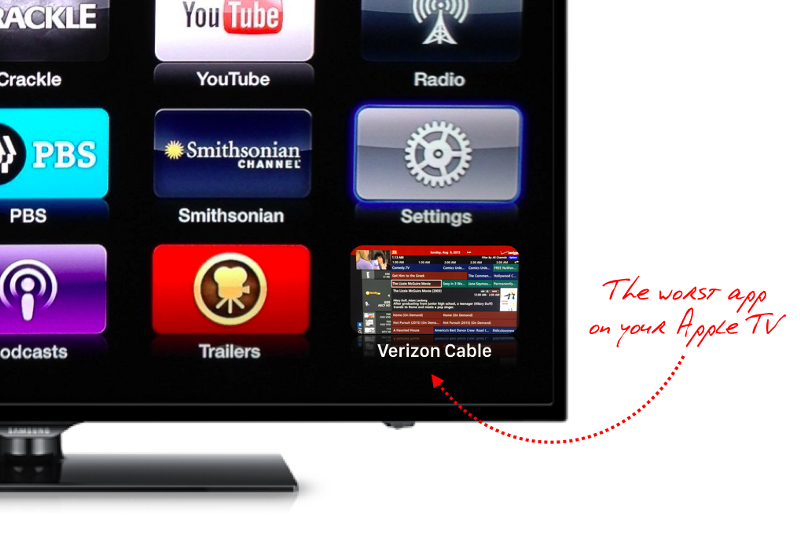 Now as far as controlling those other inputs, you would still need your other remotes. In a more unrealistic* scenario, Apple TV could somehow send an infrared signal back to your cable box to control it as a universal remote where you could do basic functions like channel #s, go up, down, left, right, etc. all through Siri. (*unrealistic because Apple would never do this)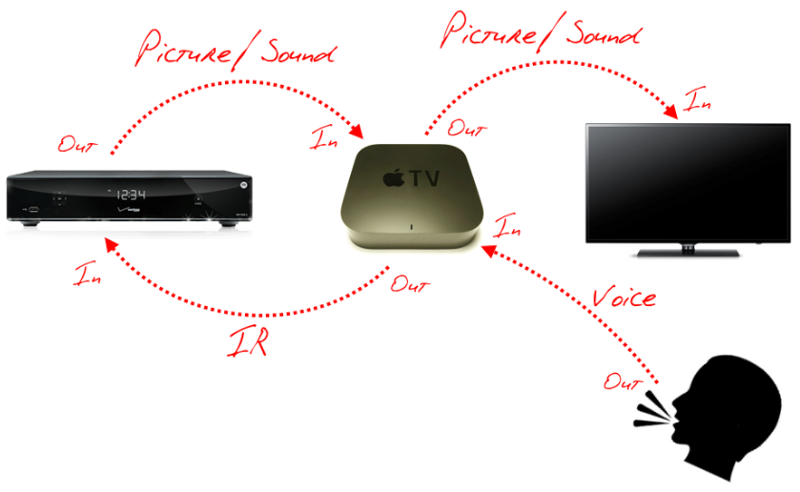 Obviously this is all fairly elaborate, but I'm just thinking about how Apple could sidestep the cable providers altogether and not make "switching" a prerequisite for getting the new Apple TV. The best experience would be to get rid of cable TV altogether, but even for those that keep it, Apple could become strongly positioned as the gatekeeper to your entire TV, making cable providers just one channel among many other (better) options.
TVKit
Developer tools for Apple TV seems like a no brainer. I'm not sure that there will be a full App Store for Apple TV — instead I see this as an extension of the apps you already have on your phone, just like Apple Watch. Something like this may be what the current Apple TV apps use already (notice the unified UI within each "app"), but it should be available to all iOS developers.
Handoff Replaces AirPlay
Relatedly, you should easily be able to move back and forth between your TV and other devices. Have something cool on your phone or watch and want to share it with the rest of the room? Handoff could very quickly allow you to take over on Apple TV. This feature could be marketed as "Hate AirPlay?"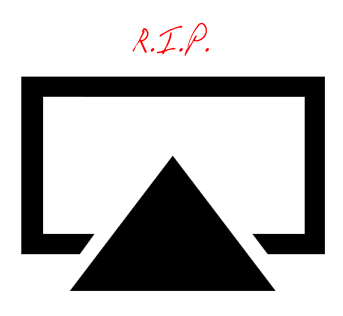 HomeKit + AirPort
Imagine if every new smart device you got for your home could connect to the internet automatically and just magically be setup? (I'm looking at you, Nest.) Having Apple TV constantly on the lookout for new devices and "inviting" them to join your home would make setup and maintenance a lot easier. Also those devices could use your TV (and speakers) as a visual and audio interface. For instance, my Nest Protect could actually talk to me through the TV, or through any other Apple device in my home as I mentioned above, eliminating the need to have a speaker built into the device.
Also, in this scenario, I sort of can't imagine Apple TV not just being your wireless router as well. Having an AirPort as a standalone device just doesn't seem to make sense any more.
Oh, and you should be able to setup your wireless network with just an iPhone handy; no Mac required.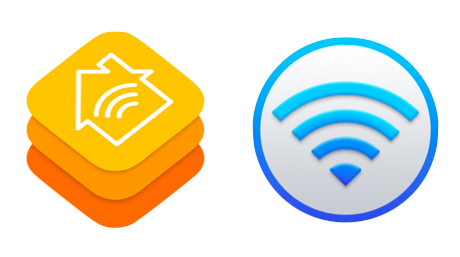 Price
Apple TV is already cheap at $69 and much cheaper than its previous price of $99. For everything I've described above, $69 seems like a real steal!
Is there a scenario where it becomes free? Doesn't seem like Apple's style. However, if bundled with a subscription to Apple TV or Apple Music, then that could be interesting. (like a cable box) Or maybe it becomes an "attachment" to an iPhone purchase the way that MobileMe was to a Mac, where it is heavily discounted if purchased simultaneously with an iPhone.
Personally, I think $49 is the sweet spot. Based mostly on the fact that $69 just sounds super random and $49 sounds like a great deal.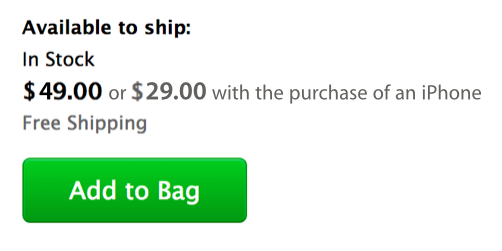 Apple Home
This device might not be an Apple TV at all. It might deserve a new name: Apple Home. A stretch I know (like a lot of things in this post), but I hope indicative of how Apple may be thinking about not only the things we have on our person, but also the spaces we live in.
I just hope we finally find out what this was originally supposed to be…